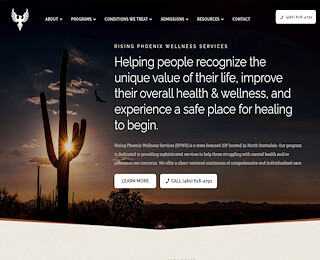 Rising Phoenix Wellness Services is a highly sought-after alcohol rehab in Scottsdale with the best treatment programs and the highest success rates. We use cognitive behavioral therapy, dialectical behavioral therapy, somatic experiencing, etc., to identify and treat co-occurring mental health issues in patients battling with addiction.
Psychotherapies that help treat dual diagnosis
Psychotherapies refer to a set of behavioral therapies that identify and treat mental health problems. As part of our outpatient alcohol treatment in Scottsdale, AZ, we use various psychotherapies to learn about your condition and equip you with healthy coping skills to tackle challenging situations.
Some of the therapies we use include cognitive-behavioral therapy (CBT), dialectical behavioral therapy (DBT), somatic experiencing (SE), accelerated resolution therapy (ART), solution focus, existential therapy, motivational interviewing, etc. We also use rational emotive behavior therapy, equine therapy, psychodrama therapy, and mindfulness and meditation to help recovering addicts regain control of their minds, bodies, and souls.
Benefits of choosing IOP for alcohol addiction
Intensive outpatient treatment provides the second-highest level of care after inpatient treatment and offers a whole array of benefits. Here are the top reasons to choose IOP treatment for alcohol addiction:
IOP programs offer the second-highest care level while still allowing you to maintain your everyday responsibilities and work/school-related obligations.
IOP treatment is more affordable than inpatient treatment
These programs allow patients to heal and recover in the love, support, and companionship of family members, as they stay in the comforts of their home during the treatment.
IOP is your best bet to overcoming addiction with minimal disruption to your routine life. These programs can provide you with an opportunity to start anew without burning a hole in your pocket.
Our outpatient alcohol rehab services
As the best alcohol and drug rehab in Scottsdale, we provide a whole array of outpatient services that yield the best patient outcomes. Here are some of our outpatient programs:
Weekly group therapy - Our weekly group programs are for those with busy schedules and engage patients in a series of 12-step meetings, behavioral therapies, and other wellness programs in a group-based setting, promoting continuous peer support.
Weekly individual therapy – Customized treatments and personalized care play an integral role in the recovery process. By engaging patients in 1-on-1 addiction treatment in Scottsdale with our mental health experts and therapists, we help them process through their traumatic memories, overcome their addiction, and develop essential life skills for an alcohol-free life.
Case management/coaching services – Relapse prevention education is an integral part of our drug and alcohol rehab treatment as it goes a long way in reducing the risk of relapse over the years.
Psychiatric/medical services – As a pioneer drug and alcohol rehabilitation center in Scottsdale, we offer various psychotherapy sessions to address the withdrawal and stabilize our patients' behavior and thinking patterns. We also use evidence-based behavioral therapies to identify and treat the underlying cause of addiction and equip patients with critical coping mechanisms. 
Get in touch with Rising Phoenix Wellness Services by reaching us at 480-589-0895. Your search for the #1 alcohol rehab in Scottsdale ends here. As a pioneer rehab facility for alcoholism, we use a holistic treatment approach to help individuals cruise through the most testing period of their lives and attain comprehensive recovery and improved wellness.
alcohol rehab Scottsdale